Hand washing
An easy way to stay healthy
Washing your hands frequently is one of the best and easiest ways to avoid getting sick and spreading germs and even severe infections like the flu.
Washing your hands properly doesnít take much time, and you only need soap and clean running water or an alcohol-based hand sanitizer (water is not necessary). Hand washing is especially important in the hospital and daycare centers, but no matter where you are, what you touch or whom you touch, your hands collect germs. Keeping your hands completely free of germs is not possible, but limiting the spread of germs is. Itís particularly important to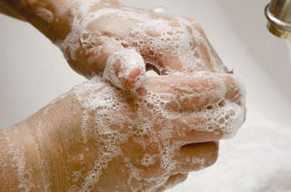 always wash your hands both before and after particular activities Ė and, of course, whenever they are dirty.
Wash your hands before:
preparing food
eating
inserting or removing contact lenses
touching someone who is sick or injured
giving someone medicine
treating a cut or wound
Wash your hands after:
preparing food, especially raw meat or poultry
blowing your nose, coughing or sneezing
using the toilet
changing diapers or cleaning up a child who has gone to the bathroom
handling an animal or animal leashes, waste and toys
handling garbage
touching someone who is sick or injured
giving someone medicine
treating a cut or wound
When using soap and water
Wet your hands with clean running water. Use warm water if it is available.
Apply liquid or bar soap and lather well.
Rub hands together and scrub all surfaces for at least 20 seconds. Be sure to scrub between your fingers and under your fingernails, as well as your wrists and both sides of your hands.
Rinse hands well under clean running water.
Dry your hands using a clean or paper towel or air dryer. If possible, use your paper towel to turn off the faucet.
When using an alcohol-based sanitizer
Apply enough of the sanitizer to wet your hands.
Rub the sanitizer over all surfaces of your hands and fingers for about 25 seconds until they are dry.
To help patients stay safe, health care staff must follow standard precautions to prevent the spread of infection in the clinic or the hospital. Many patients have conditions that make them especially susceptible to germs.